In the world of printing, there are so many different terms and features that you can choose from to elevate your print job. From imprint types and printing finishes to printing material types and graphic terms, experts in the industry understand the jargon as if it were a second language, but to most these terms can be foreign. 
At Conformer Folders, creating custom high-quality presentation folders for our clients is what we do best, and we achieve this through the use of different techniques. This is why we take a deep dive into some of the most common terms through our blogs including aqueous coating, foil stamping, and UV coating (keep reading below!)
UV coating is a high-gloss printing finish that seals ink against smearing and produces a luxury finish. Not only does UV coating add a beautiful gloss finish to the print job, but that gloss also adds a protective coating. It is an embellishment to print products that can really add a 'wow' factor to your printed folder, helping it to look and feel elevated and professional. 
 UV coating happens when printed paper is exposed to ultraviolet light which cures the finish. After the finish is hardened (cured), the product is left with a brilliant shine or gloss that gives an eye-catching effect while also protecting the printed design.
Benefits to using UV coatings
Since there are so many printing finishes, it's important to know the benefits of using each one so you make the right decision for your business. That said, there are a few key benefits to UV coatings that may sway you in the direction of this finish.
It offers great paper protection: since UV coating can offer more gloss than aqueous coating (a water-based coating that seals ink), it can give you a more brilliant shine and therefore better protection overall.

It can be applied to certain areas, making it a flexible finish: UV coating can be applied to a specific area (or areas), so you have more flexibility. This process is called "spot varnish."
UV coating offers an attractive finish: when printing high-quality products like presentation folders, direct mail postcards, and business cards, the materials and finishes you choose are key to making a great impression. UV coating provides a professional, shiny finish that can enhance your brand image through adding an impressive shine that brings out the colors / designs printed on the page.
Custom presentation folders that make your business stand out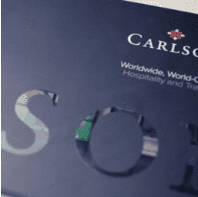 At Conformer Folders, we offer a variety of different printing finishes including UV coating, and our team is happy to answer any questions you have regarding the best print finish for your specific needs.
Make your business stand-out with luxury folders that match your professional brand and take advantage of our luxury print options. With a high-quality look and reliable product, you gain versatility and luxury all in one. We are proud to provide amazing custom folders our clients love and use often.
Click here to browse our different products, here to review our glossary of printing, or here to learn more about our artwork guidelines for more information.