There are so many different terms in the world of printing that unless you work in the industry, it is hard to keep them all straight. One term that is helpful to know, especially for business owners who are looking for beautiful custom print options, is foil stamping.
Simply put, foil stamping is a special printing process where metallic or pigment (non-metallic) foil is applied to a surface using heat and pressure. This results in a beautiful, luxurious printed effect, and can be a great way to elevate your branding and folders. The combination of foil stamping with high quality colored linen paperboard is a great choice for companies looking to produce high value, premium quality marketing materials at a modest cost.  Foil on linen has a low setup cost, so small orders of 250 – 500 pieces are well priced.  
Keep reading to learn more about the process behind foil stamping, the different types of foil, and even a tip for a cost saving option that could be great for your business depending on your order size.
Foiling can be done a few different ways which includes manually and through the use of a machine. Manual foiling works when you use a manual hot foil stamping machine and apply pressure to the surface and is a good option for low-volume jobs. Air-powered machines and heated stamps are much more efficient for higher-volume jobs as the machinery makes it easier to create consistent designs quickly and efficiently.
The foiling process for both includes the use of pressure and heat to bond the foil to the surface, which produces a metallic effect. With high-quality print jobs, heated stamps (which are a machine-based process) are often used to get uniform printing and excellent quality every time.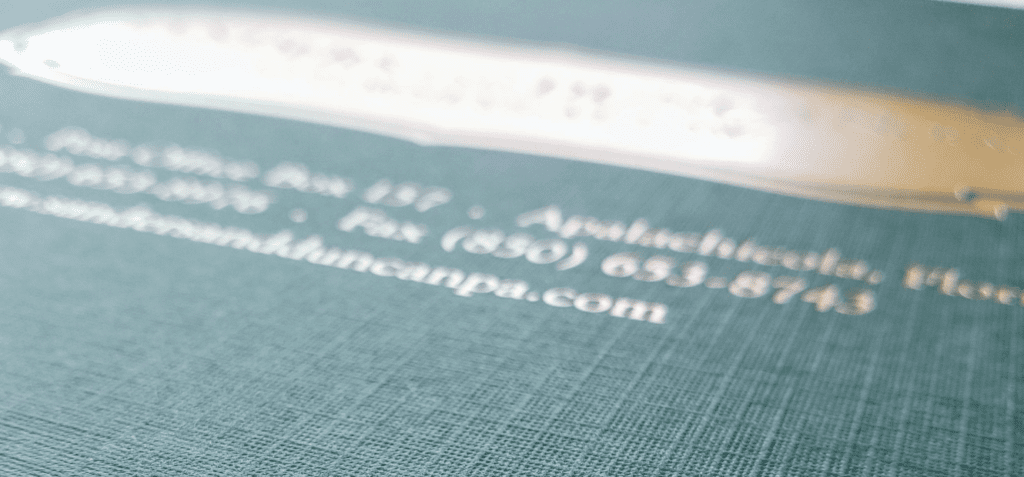 Metallic vs. non-metallic foil
At Conformer Folders, we offer both metallic and non-metallic foil options. Gold and silver metallic foils are standard, and sometimes other metallic colors can be achieved upon request. Metallic foils are typically made of aluminum or tin and can be combined with a color layer which helps to produce whatever the desired effect and final color is. Non-metallic foils are pigment colors, which have a slightly flatter appearance, but can still produce a bright or shiny appearance.
One helpful tip to note is that if your order is under 1,000 units and you're looking to utilize basic artwork in a small area, non-metallic foil is a great cost-saving option. Non-metallic foil still gives you a professional printed effect while helping you save on your total print job.
How to achieve attractive professional folders
At Conformer Folders, we offer many different imprint types to elevate your professional folders including foil stamping. If you'd like to use this effect, you simply choose whether you want metallic or non-metallic foil and then the foil is applied to paper via a heated die stamp. Foil stamping can also be combined with embossing and debossing. Embossing involves producing an image that is raised above the paper's surface.  Debossing produces a depression on the paper's surface.  When combined with foil stamping, embossing and debossing crates a beautiful shiny 3D image.
Make your business stand-out with luxury folders that match your professional brand and take advantage of luxury print options like these. With a high-quality look and reliable product, you gain versatility and luxury all in one. We are proud to provide amazing custom folders our clients love and use often. Click here to browse our different products, or here to learn more about our artwork guidelines for more information.