Embossing
Producing an image that is raised above the paper's surface. Other names for embossing include cameo and tool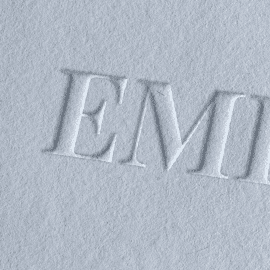 Debossing
Creating an image that is pressed into the material and appears below the surface.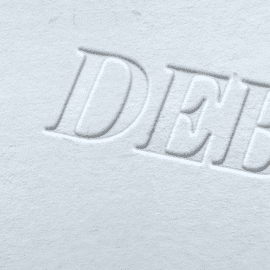 Foil Stamping
The application of metallic or pigment (non-metallic) foil, often gold or silver applied to paper via a heated die stamp. Foil stamping can be combined with embossing to create 3D images.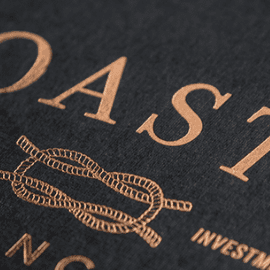 Four Color Process
Often abbreviated as 4C refers to the combination of cyan, magenta, yellow and key, which is black. The combination of two, three, or four of the process colors in varying percentages can create almost any color, from flesh tones to sky blue to leafy green.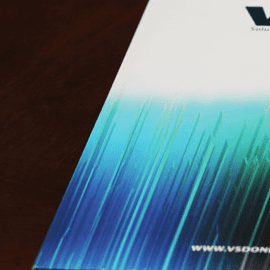 PMS Color (Pantone Matching System)
Also referred to as "spot" and "flat" colors, are printed from a single ink created to achieve a specific color match. PMS colors are applied as one color, not as a combination of two, three, or four colors like 4C process. Logos and graphics can be color broken to print in 4C process or in PMS colors.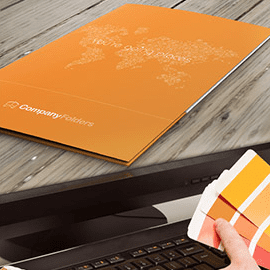 Aqueous Coating
Water-based coating that seals the ink against smearing and gives a glossy finish.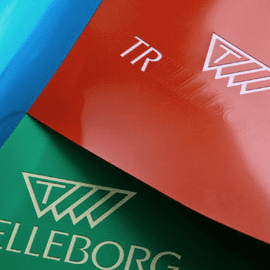 Lamination
Bonding a strong, protective film of plastic to the sheet. Lamination is the most durable of the available coatings and is available in gloss or matte finish.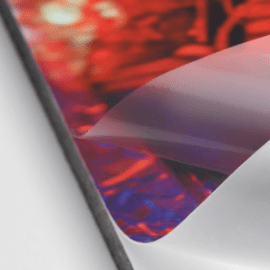 Soft Touch Laminate
A special effect matte aqueous coating that gives the product a soft or suede-like feel.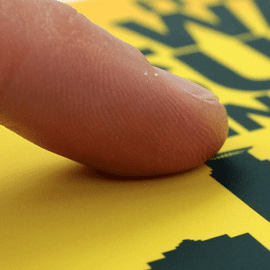 Spot Varnish
The application of UV Coating to a specific area (or areas) of a printed piece rather than coating the entire surface to achieve a gloss/matte combination effect.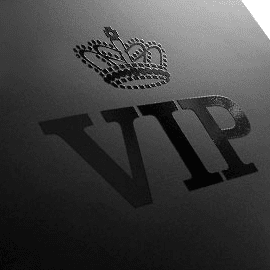 UV Coating
A high-gloss finish that seals the ink against smearing. Exposure to ultra-violet light cures the finish to a brilliant shine.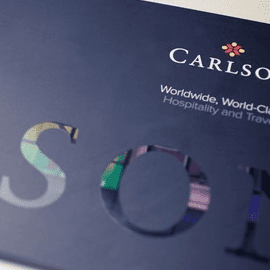 C1S (Coated One Side) 
A high-quality white paperboard stock primarily made from virgin wood pulp with a smooth coating on one side. Our C1S stock is FSC certified and includes 10% recycled fiber.
C2S (Coated Two Sides)
 A high-quality white paperboard stock primarily made from virgin wood pulp with a smooth coating on both sides. Our C2S stock is FSC certified and includes 10% post-consumer recycled fiber.
Eco Brown Kraft
An uncoated brown paperboard stock made from 100% post-consumer recycled fiber.
Linen 
A textured stock with a pattern simulating the look of linen cloth. Linen stocks are created by embossing a specific pattern of lines like you would see in fine linen cloth. 
PCR Polyetholine (PCR PE)
Offered in 35% – 85% post-consumer recycled content. Our PCR PE is made from recycled milk jugs available in natural, tinted, and opaque in standard and custom colors. Natural PCR PE is the color of typical plastic milk jugs.
Polyethylene (PE) 
A highly durable plastic material offered in a wide variety of standard and custom tinted and opaque colors. PE is offered in virgin resin or blended with post-consumer recycled content.
Polypropylene (PP) 
A plastic material known for its clarity and durability. PP is made from virgin resin and is recyclable.
General Printing and Graphic Terms
Artwork
Content (including text, images and colours) of a printed product, also referred to as your design. This is supplied print-ready in an electronic format (PDF file is preferred) with every order.
Bleed
Printing that goes beyond the edge of the final trim size.
Border
Margin or line between the image area and the edge of the paper.
CMYK
An abbreviation for Cyan, Magenta, Yellow and Black (K = key, black) – the four process (or 'full colour') inks.
Coated Stock
Paper with a thin surface coating of clay that produces a smooth finish.
Crop marks
Lines at the edges of a sheet that show where the page will be trimmed.
Cure
The process of drying inks or coatings through chemical processes to develop strong adhesion.
Die cutting
A process of cutting paper in a shape or design using metal dies.
Gloss
Shiny coating applied to paper.
Grayscale
An image made up of a range of shades of black and white.
Heavy Ink Coverage 
The increased amounts of ink necessary for a solid block of color or ink coverage exceeding 35% or more. 
Matte
Dull non-glossy finish.
Online PDF Proof
An electronic file of the print product artwork that is supplied for approval prior to production. At Conformer, this proofing type is mostly the default and available at no cost.
Prepress  
The stage of a print process where files are prepared and reviewed for printing to determine if it is setup correctly for print.
Press-Ready  
An electronic file that has been set up and designed using standard print specifications. Common specifications to considered are color mode (CMYK), bleed, and image resolution.
Raster Image
Image made up of rows and columns (map) of dots or pixels.
Ream
A quantity of paper equivalent to 500 sheets.
Resolution
Refers to the number of pixels in an image expressed in pixels per inch (ppi) or dots per inch (dpi); the higher the number, the sharper the image.
RGB
Refers to red, green, blue – the additive primary colors used for color video display as on a computer screen
Rich Black
A darker and deeper black color created by combining other ink colors with black ink. The values to create Rich Black is usually 40% Cyan, 30% Magenta, 30% Yellow, 100% Black.
Stock
Another word for paper that is generally used interchangeably.
Tint
A mixture of a hue with white.
Vector Images
Images made up of solids, lines and curves that can be scaled or edited without affecting image resolution.
Environmental Certification
Forest Stewardship Council (FSC) certification
 Labels that provide on-product proof of the integrity of the supply chain from forest to consumer. The FSC logo can only be added by an FSC certified printer on FSC certified stock. 
Sustainable Forestry Initiative (SFI) 
An independent, non-profit organization responsible for maintaining, overseeing, and improving a sustainable forestry certification program that is internationally recognized.